This is a one-to-one lesson with Shinji Takeuchi, the YouTube swimmer, based on his teaching experience with over 8,000 swimmers.
Location: Swim Salon Matsudo
Address: 6-30-10, Tokiwadaira, Matsudo-shi, Chiba, Japan
Map

Access: Shin-Keisei Line Goko Station
Train Route Finder (from your nearest station)
Duration: 35 minutes
Tuition: US$88(single), US128$ (pair) (sales tax included)

Appointment:
Appointments can be made up to 60 days in advance. Click the followings:
Private Workshop (Single)
Private Workshop (Pair)

Details of Private Workshop
The curriculum will be designed based on your swimming skills and goals.
There is one 35-minute pool session.
Your swim will be recorded to find problems and solutions. You will learn several drills to acquire new skills based on your demand.
We recommend two sessions if you want to fix your problems and acquire new skills.
Examples of curriculum
To swim 25 meters (about 25 strokes) without stopping
To keep swimming for at least 30 minutes with ease as a lifelong sport
To master the basic level of TI freestyle
To master advanced levels of skills such as recovery, breathing, 2-beat kick, and underwater stroke
To swim faster by 5-15% by adjusting body position and basic movements
To master skills for open-water swimming
To master skills of swimming with grace
The follow-up to keep your skills improving
We record the whole pool session so that you can watch it for your review.
The director also takes memos after watching the whole video and sends them to you.


About Swim Salon
The large 4.5m x 2.4m endless pool is equipped with a high-power type flowing water mechanism capable of high-speed swims (equivalent to 65 seconds at 100m).
Super wide-angle video is used to capture images above and below the water, which can be viewed on a large monitor installed in front of the pool.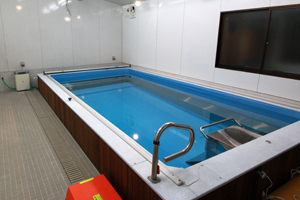 Video Recording

Videotaping will be done from three angles: surface-side, surface front, and underwater as shown below.

Cancellation Policy
61 days prior to the scheduled appointment: No cancellation fee
60-31 days prior to the scheduled appointment: Cancellation fee: 20% of the tuition
30-14 days prior to the scheduled appointment: Cancellation fee: 50% of the tuition
0-13 days prior to the scheduled appointment: Cancellation fee: 100% of the tuition

How to make a reservation